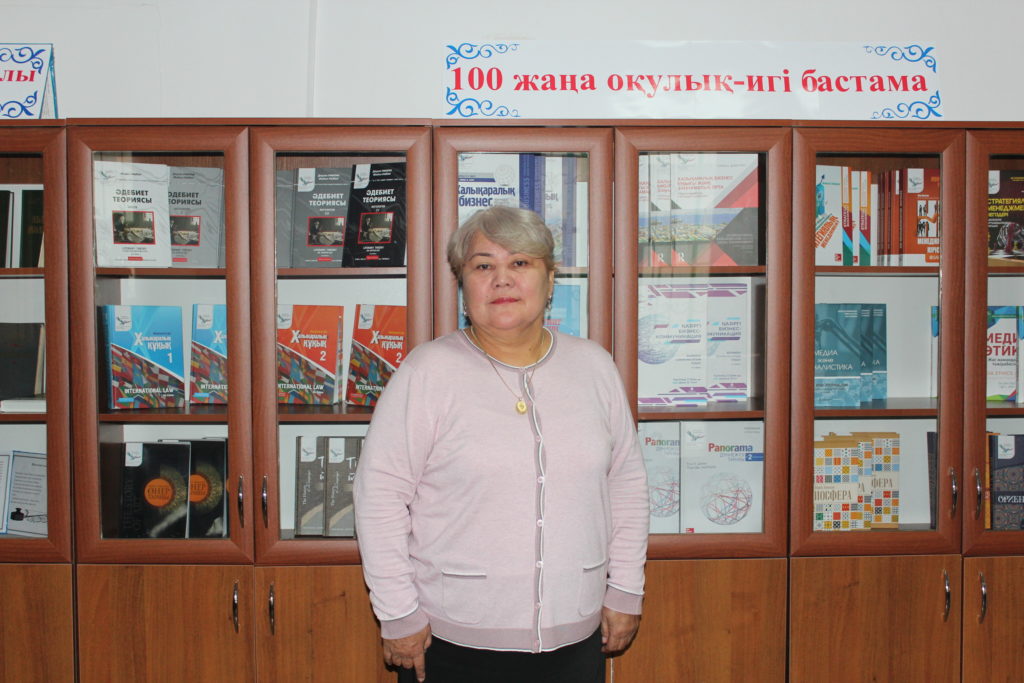 Since 2007 the head of the library is Toksanbaeva Damira Nesipbaevna.
The basis of the library's book fund is 2500 books issued by the International Kazakh-Turkish University. Today the library's total book stock is 275000 thousand books. Annually, the university administration allocates 2-35 billion tenge to replenish the library fund with new books.
The library has a fund of literary books of scientific, methodological and teaching work in the Kazakh and Russian languages, as well as books for reading teachers and students leisure
and an agreement was drawn up on the joint use of the Shymkent library fund for blind and visually impaired citizens.
The university has a long-term contract with the central library named after Abay of the city of Shymkent. Students and teachers can use the library fund, which has a total fund of 1,817,891 scientific and technical and 440,000 copies.
In addition, in accordance with the Consortium for Cooperation in Higher Education and Scientific Cooperation with the South Kazakhstan University named after M.Auezov, they jointly use the library fund of this University.
To improve the level of culture, professional activity, computer literacy and professional qualifications of library employees.
From October 14 to 19, Damira Toksanbayeva took a refresher course on the topic "trends in library development in modern conditions in higher education institutions" in the amount of 36 training hours, from October 14 to 19, at the Institute of advanced training and additional education of the ENU.L. N. Gumilyova.;
From 22 to 23 November at Taraz state University.M. H. Dulati held a library forum " University library: modernization, management, quality»;
Participation in seminars "problems of development and optimization of libraries of higher educational institutions of Shymkent and Turkestan region" in Shymkent.
In addition, electronic librarian Maksutova Kamshat Bakytovna at the International humanitarian and technical University of Shymkent on April 03, 2019 in the South Kazakhstan branch of the national center for State scientific and technical expertise JSC.Selecting a magazine: how to find a magazine with an impact factor and warn against the palm of your hand."